CRANK BROTHERS Rebuild Kit Egg-Candy 3-11
CRANK BROTHERS Rebuild Kit Egg-Candy 3-11
RRP £14.99
PRICE £13.99
CARRIAGE: Add item to Basket to show carriage costs (you can easily remove it)
Model Year

2012

Description

If there is an increase in sideways or axial play in the pedal, you need to fit a rebuild kit. If your Eggbeater or Candy pedal is labelled with a 3 or 11 then this is the rebuild kit you need to get them back as good as new .

bearings - cartridge ball
bushings - ingus composite
seals - reinforced lip seal

Rebuild Kit for Eggbeater/Candy 3-11 pedals from 2010 onwards. Includes bearings, seals and end caps.
As with any product, specification is subject to change without prior notification. You are advised to confirm current specification before buying.

Shop with confidence.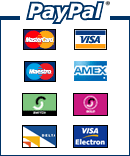 PayPal available for orders up to £500.00