Getting In Touch
Please feel free to contact us here. You can do so via any of the traditional methods.

We also recommend subscribing to our mailing list for regular special offers and discount voucher codes.

Postal Address

Singletrack Bikes
Unit 1, 101 High Street
Bonnyrigg
Midlothian
EH19 2ET

Opening Times

Our phone lines are open:
Monday - Friday (excluding bank holidays)
10am - 5pm

The phone line can sometimes get busy during peak times, so instead of getting frustrated trying to get through, just email us.

Shop with confidence.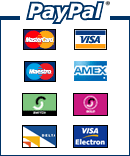 PayPal available for orders up to £500.00